Hon. Donald N. Rizzardi
Presiding District Judge
Phone: 256-532-1646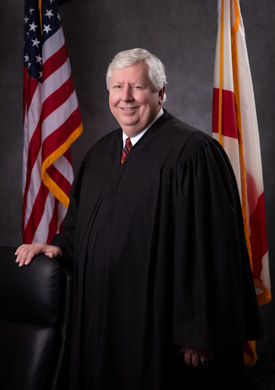 Judge Don Rizzardi was born on May 6, 1959 in east Tennessee to Ned and Wilma Rizzardi; he was the second of their five children. After living five years in the volunteer state and one more in the San Francisco Bay area, his family moved to Huntsville where he has been pretty much the rest of his life.
He grew up in northwest Huntsville, attending Highlands Elementary, Ed White Junior High, and Butler High. From there, he matriculated to the University of Alabama/Huntsville, where he graduated with honors with a major in American History and a double minor in Political Science and Accounting. In 1979, he was also an exchange student at Balliol College, one of the 37 schools that comprises Oxford University, studying British parliamentary government and Shakespeare.
After spending six years in business, Judge Rizzardi graduated in 1990 from the University of Alabama School of Law.
Upon  returning from Tuscaloosa, he worked 13 months in private practice and then 27 years as an assistant district attorney, specializing in drug crimes prosecution and search and seizure law. On December 5, 2018, he was appointed to the district court bench by Governor Kay Ivey.
He is the proud father of four adult children and the grandfather of three.