100 North Side Square
Huntsville, AL 34801
(256) 532-3641
COURT ADMINISTRATOR
Kim McKoy was appointed as Court Administrator by Presiding Judge Karen Hall in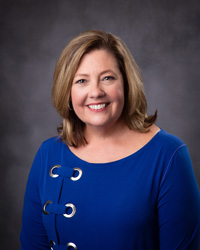 January 2013. Previously Kim worked in the Madison County Circuit Clerk's office for 25 years. The Court Administrator serves as a conduit for many judicial operations of the courts and is responsible for the administration and management of the Jury System. The Court Administrator's role is to facilitate the administrative responsibilities of the court and develop policies to enhance performance of the courts operations.
Kim and her staff are responsible for the following:
Jury Management – oversee the county's jury system to ensure efficient and cost effective policies and procedures are implemented.
Fiscal Administration – prepare and guide court budgets; processing and management of grants.
Human Resources – facilitate personnel matters for judicial staff
Procurement – acquisition supplies and equipment for judicial staff; maintain inventory and communicates with vendors regarding best economic procurement by analyzing quotes and proposals
Case management reports and Statistics – collect data, analyze and evaluate pending caseloads, work with Clerk in data validation.
Information Technology – provide support in all areas of Technology for the judicial staff and collaborate with the Administrative Office of Courts to promote the efficiency of our courts.
Space Management – manage space to assure that Judges have adequate room to hold court to also instill public confidence in compliance with the American Disability Act.
Indigent Defense – maintain list of qualified attorneys to be appointed and assign attorneys to cases as needed
COURTHOUSE OFFICES

Room
Phone
Circuit Clerk

Kizer, Debra

217
532-3390
Court Administrator

McKoy

, Kim

327
532-3575
Jury Venire Room
616
532-3576
Sheriff

Turner

, Kevin

206
532-3412
District Attorney

Brousard

, Rob

414
532-3460
Chairman, County Commission

Strong

, Dale

700
532-3795
County Administrator

Jones

, Kevin

700
532-3502
County Attorney

Rich

, Jeff

700
519-2061
JUDGES

EXT.
EXT.
Pl. 1
Circuit Judge Karen Hall                   

 (KKH)

Pl. 3
Dist. Judge Linda F. Coats

              (LFC)

Courtroom #1 – Rm. 251
  Courtroom – Rm. 306
256-532-3455
256-532-6990
Pl. 7
Circuit Judge Alan Mann,

 (-AM)

Pl. 2
Dist. Judge Patty Demos             

(PDD)

Courtroom #3 – Rm. 230
Courtroom – Rm. 529
256-532-1572
256-532-3636
Pl. 3
Circuit Judge Ruth Ann Hall, PJ     

(RAH)

Pl. 4
Dist. Judge Don N. Rizzardi

           (DNR)

Courtroom #4- Rm. 334
Courtroom  – Rm. 800
256-532-3618
256-532-1646
Pl. 5
Circuit Judge Donna S. Pate   

           (DSP)

Pl. 1
Courtroom #6 – Rm. 810
256-532-3631
Pl. 6
Circuit Judge Chris M. Comer         

 (CMC)

3780
Judge William Page

–

Rm. 243      (WDP)

519-
Courtroom #2 – Rm. 270
2053
256-519-2053
Madison Co. Juvenile Justice Center
3708
CATHY CALLAWAY, Juv Ref            

(MCC)

815 Cook Avenue, Huntsville, AL  35801
Pl. 2
Circuit Judge Alison S. Austin 

         (ASA)

FAX# 532-3707
Courtroom #7 – Rm. 600
256-532-3440
Court Administrator's Office –

Rm . 327

FAX # 532-3686
Pl. 4
Circuit Judge Claude Hundley

           (CEH) 

3575

KIM MCKOY,

 

COURT ADMINISTRATOR

Courtroom #5 – Rm. 812
256-532-3754
3641
JURY INFO
Circuit Judge James P. Smith

(Ret.)    (JPS)

United States District Court (Federal)
Office – Rm. 121

 

JUDGE C. LYNWOOD SMITH      533-9490
256-532-3394
FED. CLERK'S OFFICE                534-6495
Circuit Judge

 

Patrick M. Tuten

SHERIFF'S DEPT.
Courtroom – Rm. 604
Administrative Office of Courts
AOC                 1-866-954-9411