Hon. Patricia Dunn Demos
District Judge
Phone: 256-532-3636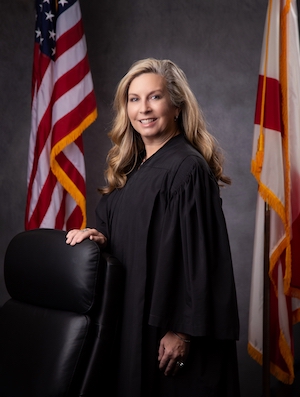 Patricia Dunn Demos was born and raised in Huntsville, Alabama where she attended Huntsville High School.  She graduated from Birmingham – Southern College in 1989 and went on to earn her Juris Doctorate from The University of Alabama School of Law.  Her legal career began in 1992 as an Assistant District Attorney for Tuscaloosa District Attorney's Office, first working in child support, then promoted to Juvenile Prosecutor. In 1993, Patty and her family moved back to her hometown of Huntsville, Alabama where she joined the Madison County District Attorney's Office as an assistant District Attorney assigned to the district courts.  Thereafter, she was promoted to prosecuting child abuse cases and became the head of the Child Abuse Unit in 1998.  When the federal government established the Violence Against Women Act in 1994, she authored and directed a grant program to develop and enhance services to decrease crimes against women and provide services for those victims. Through her efforts, the former Child Abuse Unit became the Family Violence and Sexual Assault Unit, which she headed until leaving the District Attorney's Office in 2003. As head of this unit, she supervised attorneys, support staff and coordinated law enforcement agencies, DHR, the NCAC, Hope Place, and area professionals who worked with the victims and offenders of family violence and sexual assaults.  After leaving the district attorney's office, Patty worked for a short time with a law firm specializing in divorce cases before opening her own firm in 2004. During her time in private practice, she handled a variety of district court cases, served as substitute public defender and substitute Judge in Huntsville City Court. In addition, she was appointed to represent the Madison County Department of Human Resources in dependency cases.
Judge Demos was appointed as a District Judge in Madison County in February 2015.  Also in 2015, Judge Demos began presiding over the Adult Mental Health Court of Madison County.  She has been appointed to numerous state committees by both Governors Bentley and Ivey since being appointed to the bench, including the Judicial Rules Committee, the Court Improvement Project and the Department of Youth Services Board. She served as President of the Alabama Juvenile Judges Association in 2020 and presented on the law of juvenile cases at two of the Alabama State Judicial Conferences.
Judge Demos has been married to Joe Demos since 1991.  Together they have raised four wonderful sons and welcomed two amazing daughters-in-law and one "bonus" daughter.  They have also become grandparents of two grandsons and are expecting that number to increase.