Hon. Donna S. Pate
Circuit Judge
Phone: 256-532-3631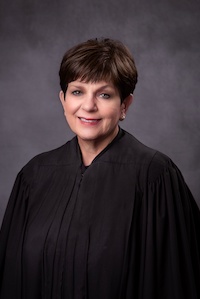 Donna Pate is a lifelong resident of Madison County, Alabama.  She received a B.A. in Political Science from David Lipscomb College in 1979, and a Juris Doctor degree from the University of Alabama School of Law in 1982.  She served as law clerk for United States District Judge E.B. Haltom, Jr. prior to entering private practice in Huntsville, Alabama.  She practiced in the areas of civil litigation and education law for twenty-nine years, first with Ford Caldwell Ford & Payne, then with its successor firm, Lanier Ford Shaver & Payne P.C.  She was active on both the local and state bar levels, serving as president of the Madison County Bar Association and as a member of the Alabama Board of Bar Commissioners for nine years. She was inducted as a Fellow in the American College of Trial Lawyers in 2007.
She was appointed Circuit Judge by Governor Robert Bentley in February, 2012, and was subsequently elected to her position in November, 2012.
She is an active member of the Mayfair Church of Christ. She is the proud mother of  Mary Ruth Pate, a public defender in Nashville, Tennessee;  Margaret Anne Tucker, a teacher at Grissom High School; and the proud mother-in-law of Grayson Tucker, youth minister at Mayfair Church of Christ.